OPINION PIECE: Comrades , this morning I had a reflection on what we call "Progressive Cadre's Forum" and at the same time felt so humbled by the work being done by selfless members and leaders of the ANC.
There was a tragic accident that happened a week ago when a taxi caring elders of the above branch lost control and capsized and took 5 valuable lives of our senior citizens (all of them being women) who also happened to be senior members of the ANC that confronted the brutal apartheid with their bear hands. This happened when they were forcefully removed from their richest father land near lohatlha military training base camp and the manganese and iron ore belt – ko Ga-Tlhose.
They departed when they were coming back from a meeting where "a land issue was discussed and how will they be compensated for forceful removal by the old regime.
Sadly they depart not having had an opportunity to benefit from their hard earned or fought struggle against apartheid colonialism.
What put smile on our faces is the fact that they've laid a good foundation for the younger generation to carry and continue with the struggle for "land".
Equally, I so wish to applaud a team from this branch that in this case I will call it "progressive cadre's forum," a team led by Mmoloki Walter Khumo, Lebogang Motlhaping (MEC for Safety and Liaison and Transport in the NC), Mothusi Gaborokwe and many other unlisted comrades from MB Branch.
These comrades are always at the forefront to respond to community issues voluntarily be it Education, Social welfare, funerals, parties and weddings, they are there with their elders and broader members of the society.
So profoundly, when the news broke out, they were the first to respond, they convened families, organized local Reverends and Priests to begin a journey of healing the broken hearts.
Not, only that , when the structural leadership of the ANC arrived they've already prepared the ground for the leadership to provide support. What is even more exciting is that they are doing all these selflessly under the banner of the People's Movement, the ANC. Their soul intention is to entrench the hegemony of liberation struggle movement amongst the different classes in our society.
All that I am saying is that "hats off for you comrades" 'Ke lo rolela hutshe". Our historic struggle was also been characterized by reference or recognition of some work when comrades are longer with us, we sing high, praise them to the later when they are no more. Therefore my submission today is to do exactly that as they've kept the values, principles and traditions of the ANC for being the organisation that is caring, a campaigning organisation an ANC that is among the people regardless of their class, creed, gender and so on.
You comrades have done us proud, and I wish you continue with the work you are doing, as it reflect a true character of a cadre.
If I were to do anything, I would've declared your Branch Mosalashuping Baicomedi, one of the most vibrant and functional branches in the province.
What you a doing, it's an encouragement to many comrades both in private and public or business sectors to start the same work to uplift and assist our society selflessly.
Then the challenge goes to me and many others in all 36 Branches of the ANC to start doing something and contribute positively to what ANC stand for, the unity, renewal and building.
Well, it's ok, "Challenge Accepted."
Let me also wish the departed spirits a peaceful rest and the rise and shine in glory when the trumpet sings on judgement day.
Equally to comfort the broken hearts of children, great-grand-children , sisters, brothers and all siblings and affirm wholeheartedly that your loss is our loss.
Thank you so much comrades, the ANC for playing a meaningful role to bid farewell to the selfless comrades of our movement. To me it might not be an official state funeral but I will call it "the ANC Official Funeral," just like the late Mama Winnie Madikezela-Mandela and the late Peter "Fearless" Mokaba used to do when they buried many victims of the apartheid regime.
My last challenge or invite goes to you, Thabo Mothibi, to write about these unsung heroes as a way of instilling a good culture and "ubuntu" amongst us the younger generation.
Opinion Piece by Kamogelo Semamai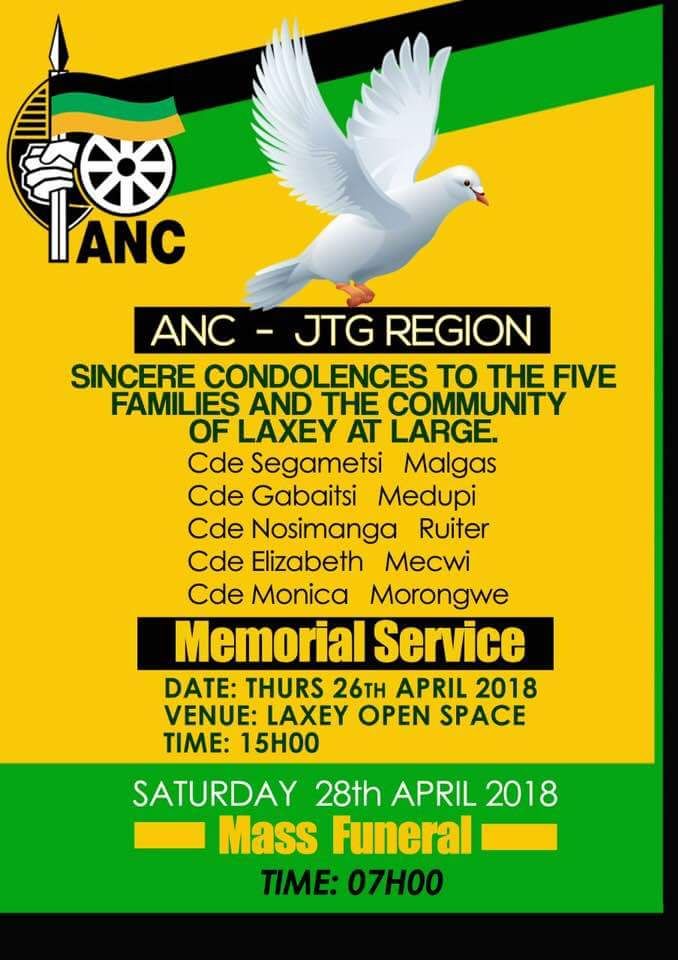 Voices / Opinion Pieces are published as posted on the original platform or as received and do not necessarily reflect the views of this website or the webmasters.
Shortlink for this post: https://ncnn.live/?p=476