By Thabo Mothibi
Kuruman – The community development oriented John Taolo Gaetsewe Developmental Trust (JTG-DT) has marked its feat of having allocated bursaries to 237 university students who have successfully completed their studies from 2004 to date.
Speaking at the Graduates Assembly and Branding Launch gala dinner held at Mothibistad last night, chief executive officer of the trust Tumelo Mpolokeng said the students qualified in studies ranging from science, engineering, information technology, law to other fields of study. Added to that, he indicated that 132 students were funded for engineering and business studies at the Northern Cape Rural FET College.
The Trust's efforts in equipping these youth from previously disadvantage backgrounds in an effort to capacitate them to transform their own lives, families and communities they hail from, did not end there:
"Since 2011, the Trust has been offering free computer training for end-user computing and 1228 have been found competent (MICT-SETA NQF Level 4 accredited). The Trust further funded 59 learners to acquire drivers licenses and further assisted 48 young people to acquire learners licenses implemented by the Human Resource Development Foundation," enthused Mpolokeng.
"The bursary programme was the first the trust started when it opened its doors 20 years ago (as the then Kgalagadi Rural Charitable Trust). The programme has been a resounding success and has assisted hundreds of young people across the district to pursue tertiary education. We are happy today that we can showcase them for all stakeholders to meet and show," said board chairperson Omphemetse Mogodi.
A majority of the graduates have found employment in some of the multinational mining companies, government and in local businesses whilst a minority remains unemployed.
Giving her testimonial and word of encouragement on behalf of all the students that had benefited from the bursary scheme was Palesa Mothibi from Magojaneng who had qualified with honours degree in psychology at the Pretoria University.
"Unemployed students mental health issues ought to be looked at as it could be quite depressing to have qualified and sitting without a job for a long time. I believe in mentorship. The adoption of graduates, particularly the unemployed is critical," asserted Mothibi who is an intern at the Department of Education. She decried the fact that a large town like Kuruman only has one psychologist in private practice.
The JTG-DT has also been involved in projects of infrastructure development such as the building of schools, clinics, housing construction, community centres like halls and tribal authority offices amongst many other initiatives it had undertaken.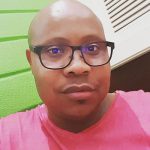 Thabo Mothibi is a former broadcast journalist (TV and Radio) – with specialist reporting experience; SABC Political/Parliamentary and TRC Teams over a period of five years (1995 to 2000).
One key foreign assignment - is the 11-nation African Connection Rally – overland journey from Africa's northern-most pole in the coastal Tunisian city of Bizerte to the southern-most pole in South Africa's Cape Agulhas. From the journalistic years, Thabo then delved into Government media liaison and serving two former Ministers and three MECs. He became the Northern Cape Provincial Government's first department based Communications Director at Department of Agriculture, Land Reform and Rural Development - 2008-2010 – where he also served as Head of Ministry from 2003 – 2008.
As a former anti-apartheid activist, his political background and professional training aided him in spearheading the Northern Cape ANC's 2004 National Elections media and publicity campaign and that of the 2006 Local Government Elections.
Whilst based in Waterkloof in Pretoria -2010 to end 2011, he consulted for Manstrat Agricultural Intelligence, then returned to the Northern Cape in 2012 to date, to consult independently and pursue other entrepreneurial interests in media and communications through KwaVuko Communications and Marketing.
Thabo Mothibi obtained his NQF7 through Wits University's Graduate School of Public and Development Management (P&DM) in Johannesburg, a Unilever Mandela Rhodes Academy for Marketing and Communications Academy (UMRA). The goal of the NQF7 programme was to educate and train public and private sector professional communicators and marketers in government communications..
Shortlink for this post: https://ncnn.live/?p=1542