He bears a first name, Amethyst, that requires the use of a dictionary for those that do not fancy geology or its essential component; petrology. Amethyst – a precious stone consisting of a violet or purple variety of quartz – is the rock upon which Kimberley born Amethyst Bradley Surprise Ralani has endeared himself to soccer lovers of the Diamond City. Cape Town City's Ralani's glittering career was crafted at Johannesburg based Stars of Africa Football Academy headed by current soccer analyst and former Kaizer Chiefs Coach Farouk "Precious" Khan. Other known gems from the academy include the likes of Tefu Mashamaite, Tokelo Rantie and May Mahlangu.
But it was in the streets and rock hard pitches of Galeshewe in Kimberley where Ralani's preciousness promised to attract future money in Euros. For each off-season whilst based in Europe in over five years, the rock-ribbed Ralani would trek from bitter cold Sweden and Denmark, searing the Kimberley temperatures to stage the Surprise Ralani Goodwill Games.
"The tournament is part of giving back to the community that made me who I am today. My vision is to grow and see many more players hailing from Kimberley in the PSL having emerged from this tournament. My dream is to stay in football until my very last breath. I have gained so much experience over the years and letting it go to waste will only be a shame. So yes, after football I want to look into being a scout/agent who can mainly benefit players from back home in Kimberley," asserted Ralani. Commenting of Ralani's Facebook page in relation to the games, Number Five resident Love Mohapi illuminated Ralani's initiative; "Good testimony of ploughing back as I bear testimony on what I have witnessed." Ralani was inundated with congratulatory messages by many a resident of Kimberley.
Past December's games transcended into a bonanza as banking giant ABSA came aboard with sponsorship. Absa's provincial head honcho Phillip Maribe, also a former local soccer player who was with his salt at Dalton Brothers was personally at the games, accompanied by ABSA employees.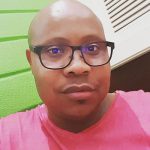 Thabo Mothibi is a former broadcast journalist (TV and Radio) – with specialist reporting experience; SABC Political/Parliamentary and TRC Teams over a period of five years (1995 to 2000).
One key foreign assignment - is the 11-nation African Connection Rally – overland journey from Africa's northern-most pole in the coastal Tunisian city of Bizerte to the southern-most pole in South Africa's Cape Agulhas. From the journalistic years, Thabo then delved into Government media liaison and serving two former Ministers and three MECs. He became the Northern Cape Provincial Government's first department based Communications Director at Department of Agriculture, Land Reform and Rural Development - 2008-2010 – where he also served as Head of Ministry from 2003 – 2008.
As a former anti-apartheid activist, his political background and professional training aided him in spearheading the Northern Cape ANC's 2004 National Elections media and publicity campaign and that of the 2006 Local Government Elections.
Whilst based in Waterkloof in Pretoria -2010 to end 2011, he consulted for Manstrat Agricultural Intelligence, then returned to the Northern Cape in 2012 to date, to consult independently and pursue other entrepreneurial interests in media and communications through KwaVuko Communications and Marketing.
Thabo Mothibi obtained his NQF7 through Wits University's Graduate School of Public and Development Management (P&DM) in Johannesburg, a Unilever Mandela Rhodes Academy for Marketing and Communications Academy (UMRA). The goal of the NQF7 programme was to educate and train public and private sector professional communicators and marketers in government communications..
Shortlink for this post: https://ncnn.live/?p=255