South Africa's promising hip-hop artist K9-Star will be on the rhythm and beats roll with a homage paying album, Seven Colours. Apart from the storytelling and headbanging tunes such as Dream Work and Overcome being set for the approval of the genre's aficionados, it is the collaborations with Kimberley based artists that reveals K-9 Star's outlook.
Humility and level-headedness are the attributes of this Northern Cape and Galeshewe born hip-hop sensation; Karabo "K-9 Star" Mothomme. His recent interview with SABC Morning Live's Pearl Shongwe just gave much to write home about. Apart from having had the interviewer enraptured in what was a great interview, K9-Star dedicated so much of it delving into the building phase of his brand.
However, it was also through that one-on-one that K9-Star revealed the impending release of his full album offering, Seven Colours. Making good on a promise. September 1st 2018 is the day upon which Spring's freshness shall be infused with Seven Colours. Kimberley's clubbers have been given the honour to attest as to whether it was always written in the stars.
"The launch will be a Kimberley thing; this is where it all started. This is me reaching out to four million people from home and independently so. There is this perception that if you not in Joburg you cannot get things done and it is about time that we start doing things in our own provinces and own kasies.  I would like to lead by example in this respect," said a socially conscious K-9 Star whilst sipping from a cup of hot water with lemon.
When asked how Seven Colours is spiced up, K9-Star revealed that it is home brewed in totality. "Seven Colours is a straight album which is locally produced and caters for a variety of sounds within the hip-hop genre."
Having rubbed shoulders with many a heavy-weight of South Africa's music scene and with international rhythm and blues sensation Kenny Lattimore also making the cut on his supporting act roll call; K9-Star's own time for national acclaim was always on the horizon.
"I will be embarking on a promotional tour of many cities, mainly at tertiary institutions with midweek performances in a series of launches beyond the Kimberley one," he added.
Even though there is a South African star in K-9 Star's eyes, he reassures this writer that his love for home is solid.
"My school-based Invade Galeshewe Initiative which focused on giving anti-drugs and crime motivational talks to learners and with musical performances that served to encourage them to seek careers from the music industry, has inspired me and I am looking forward to build on my  social good causes," emphasised K9-Star in acknowledgement of having developed into a Northern Cape brand.
By Thabo Mothibi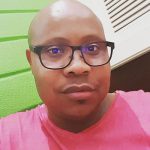 Thabo Mothibi is a former broadcast journalist (TV and Radio) – with specialist reporting experience; SABC Political/Parliamentary and TRC Teams over a period of five years (1995 to 2000).
One key foreign assignment - is the 11-nation African Connection Rally – overland journey from Africa's northern-most pole in the coastal Tunisian city of Bizerte to the southern-most pole in South Africa's Cape Agulhas. From the journalistic years, Thabo then delved into Government media liaison and serving two former Ministers and three MECs. He became the Northern Cape Provincial Government's first department based Communications Director at Department of Agriculture, Land Reform and Rural Development - 2008-2010 – where he also served as Head of Ministry from 2003 – 2008.
As a former anti-apartheid activist, his political background and professional training aided him in spearheading the Northern Cape ANC's 2004 National Elections media and publicity campaign and that of the 2006 Local Government Elections.
Whilst based in Waterkloof in Pretoria -2010 to end 2011, he consulted for Manstrat Agricultural Intelligence, then returned to the Northern Cape in 2012 to date, to consult independently and pursue other entrepreneurial interests in media and communications through KwaVuko Communications and Marketing.
Thabo Mothibi obtained his NQF7 through Wits University's Graduate School of Public and Development Management (P&DM) in Johannesburg, a Unilever Mandela Rhodes Academy for Marketing and Communications Academy (UMRA). The goal of the NQF7 programme was to educate and train public and private sector professional communicators and marketers in government communications..
Shortlink for this post: https://ncnn.live/?p=1040