Kimberley – Kimberley's illegal miners, known as zama-zamas, are now legalised.  Deputy Minister of Mineral Resources Godfrey Oliphant issued the artisanal miners with mining permits and an agreement allowing for the mining of diamond rich land covering 500 hectares of three dumbs around Kimberley.
The legalising follows bloody battles between the artisanal miners and the diamond giant De Beers's successor Kimberley Ekapa Mining Joint Venture (KEM-JV) over the city's mining rights and operational areas.
Heralding the handing-over as a first for South Africa, Deputy Minister for Mineral Resources Godfrey Oliphant says it has been proven that illegal mining can be combated. " Today we are happy to report that we have achieved what we planned for, where the artisanal miners are coming out of this process with about 500 hectares of diamondiferous land, where they can work which include the Kenilworth dumbs.
"They are entering May Day tomorrow as true workers working for themselves as a cooperative. We issued them with the licenses today, the two permits, and there are other bigger areas that they have applied for.
"We are happy that the cooperation that you have seen here came out with a benchmark that you can use around the country for ensuring that illegal mining is legalised with proper agreements between mining companies, the government and in this case the Sol Plaatje Municipality and the South African Police Services," says Oliphant who is also a former diamond mine worker and union leader.
With additional prospecting licenses in the offering, spokesperson of the artisanal miners organisation, Northern Cape Artisanal and Small-Scale Miners (NCASSM) Lucky Seekoei says despite being battle-scarred the fight was worth it. "This is the implementation of the Freedom Charter which proclaims that the minerals must be shared amongst the people of the country. We want to contribute to the Growth Domestic Product (GDP) of South Africa and the Northern Cape. We want to contribute to free education."
In reward for their rudimentary toil of scraping the surface for diamond deposits using spades, shovels and sieves; the artisanal miners will now be selling their gem finds through their trading company Batho-Pele Mining Cooperative on open tender.
Representative of the Swedish Housing Company which aided the struggle of the artisanal miners by allocating them a piece of land known as Samaria, Chelle Goliath says there were myths behind the dehumanisation of the purported illegal miners. "What they have tried to do is to be part of the economic growth of the country and we are proud to have been part of their struggle."
Despite KEM-JV big wigs not having attended the handing-over ceremony its spokesperson Gert Klopper was at hand to respond to our telephonic media enquiry. "We not at liberty to divulge details of the agreement but I can confirm that we have reached a mutually beneficial agreement," says an industrious Klopper.
The South African Police Service (SAPS) which Oliphant praised for having displayed restrained during some of the skirmishes was not present. The office of the Premier and Sol Plaatje Local Municipality were at hand to acknowledge the significance of the business of the day.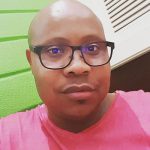 Thabo Mothibi is a former broadcast journalist (TV and Radio) – with specialist reporting experience; SABC Political/Parliamentary and TRC Teams over a period of five years (1995 to 2000).
One key foreign assignment - is the 11-nation African Connection Rally – overland journey from Africa's northern-most pole in the coastal Tunisian city of Bizerte to the southern-most pole in South Africa's Cape Agulhas. From the journalistic years, Thabo then delved into Government media liaison and serving two former Ministers and three MECs. He became the Northern Cape Provincial Government's first department based Communications Director at Department of Agriculture, Land Reform and Rural Development - 2008-2010 – where he also served as Head of Ministry from 2003 – 2008.
As a former anti-apartheid activist, his political background and professional training aided him in spearheading the Northern Cape ANC's 2004 National Elections media and publicity campaign and that of the 2006 Local Government Elections.
Whilst based in Waterkloof in Pretoria -2010 to end 2011, he consulted for Manstrat Agricultural Intelligence, then returned to the Northern Cape in 2012 to date, to consult independently and pursue other entrepreneurial interests in media and communications through KwaVuko Communications and Marketing.
Thabo Mothibi obtained his NQF7 through Wits University's Graduate School of Public and Development Management (P&DM) in Johannesburg, a Unilever Mandela Rhodes Academy for Marketing and Communications Academy (UMRA). The goal of the NQF7 programme was to educate and train public and private sector professional communicators and marketers in government communications..
Shortlink for this post: https://ncnn.live/?p=482