Athletes from the Northern Cape made history at this year's Comrades Marathon's 93rd edition. The province had 120 runners that had registered for the down-run from Pietermaritzburg to the new finish line at Durban's picturesque Moses Mabhida Stadium. Also anew to the race; running the extra kilometre from the previous 89 to just over 90km with a shift from old Kingsmead Cricket Stadium to the soccer venue.
The Vodacom Kimberley Road Runners confirmed 27 runners from its ranks who had lined up at the start with eight being novices. The club only had three non-finishers.
Making history for the mobile giant sponsored team and for Northern Cape runners was Christo Brink who matched the heroics of Bruce "King of the Comrades" Fordyce by cracking the record 30 Comrades Marathon finish line participations. And now also treading running history is Kobus Van Der Walt who cracked his 32nd race and casting himself firmly atop the Fordyce record.
Health Department spokesperson Lulu Mxekezo achieved the prestigious green colours having made it 10 Comrades Marathons in a row. Hot in pursuit is another female runner Malekoma "Mase" Mogorosi of Galeshewe Athletics Club who ran her eighth Comrades Marathon finishing impressively at 10:24:15.
Speaking to NCNN.LIVE via phone from Durban last night, the veteran runner and former freedom struggle activist was above cloud nine.  "I did over 100kilometers on my feet today as I had to walk 5km to and from the starting point," enthused Mogorosi.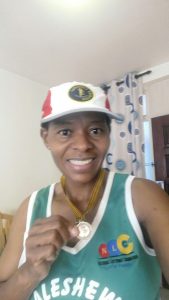 And when asked if calling it a day never crossed her mind during the gruelling race, she responded light-heartedly; "I did not come this far to give up." We could not stretch the conversation as it became apparent that Mogorosi needed crucial rest. Mogorosi's running mate and fellow veteran Patrick Sehotsane who finished at 11:50 last year and boasting a personal best of 7:58:07 hours in 1993, ran his 25th Comrades Marathon this year.
Those counting amongst the future prospects in the Vodacom Kimberley Road Runners which is the largest running club in the Northern Cape, are the likes of Shimmy Macomo who sprinted to the  finish line to an impressive 10:43 earning himself a bronze medal that brought his team's count to a total of 10 bronzes. His club mate Lorato Banda also secured a medal.
Media Manager of Vodacom Kimberley Road Runners Tracy-Lynn Lee gave the entire team's achievement; 1 silver, 3 Bill Rowan, 10 Bronze and 10 Vic Clapham.
From tracking Facebook postings, Kimberley Harriers Running Club had listed Glynn Fly, Mpho Tamasane, Opelontle Molefane, Kishan Vallabh and Sebabs Mohapi as participants in this year's race. NCNN.LIVE was awaiting feedback from the Kathu Road Runners, Finlime Harries of Lime Acres and Siyancuma Athletic Club amongst others by the time of publishing.
By Thabo Mothibi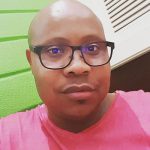 Thabo Mothibi is a former broadcast journalist (TV and Radio) – with specialist reporting experience; SABC Political/Parliamentary and TRC Teams over a period of five years (1995 to 2000).
One key foreign assignment - is the 11-nation African Connection Rally – overland journey from Africa's northern-most pole in the coastal Tunisian city of Bizerte to the southern-most pole in South Africa's Cape Agulhas. From the journalistic years, Thabo then delved into Government media liaison and serving two former Ministers and three MECs. He became the Northern Cape Provincial Government's first department based Communications Director at Department of Agriculture, Land Reform and Rural Development - 2008-2010 – where he also served as Head of Ministry from 2003 – 2008.
As a former anti-apartheid activist, his political background and professional training aided him in spearheading the Northern Cape ANC's 2004 National Elections media and publicity campaign and that of the 2006 Local Government Elections.
Whilst based in Waterkloof in Pretoria -2010 to end 2011, he consulted for Manstrat Agricultural Intelligence, then returned to the Northern Cape in 2012 to date, to consult independently and pursue other entrepreneurial interests in media and communications through KwaVuko Communications and Marketing.
Thabo Mothibi obtained his NQF7 through Wits University's Graduate School of Public and Development Management (P&DM) in Johannesburg, a Unilever Mandela Rhodes Academy for Marketing and Communications Academy (UMRA). The goal of the NQF7 programme was to educate and train public and private sector professional communicators and marketers in government communications..
Shortlink for this post: https://ncnn.live/?p=787