Kimberley – The Northern Cape's skateboarding teen sensation, 15-year-old Kimberley-born Boipelo Awuah is likely to be South Africa's youngest Olympian at the Tokyo Olympics in Japan next month.
Awuah who is a Grade-10 learner at Northern Cape High School qualified for the Olympics via the World Skateboarding Championships held in the Italian city of Rome last week. She secured a berth in the women's street skateboarding discipline against semi-professional and professional competitors.
Kimberley's gem will be turning 16 in December which puts her safely ahead of Pretoria's 16-year-old swimming star Pieter Coetzee who has been tipped to be South Africa's youngest Olympian in Tokyo.
"I am very happy but shocked as well because this is not easy representing your country at the Olympic Games and at only 15 years-old. I feel like I am paving a way for female skaters in South Africa and raising the level and showing the world that we have the skill to participate at that level," enthused the teen sensation in an interview with NCNN.live at her parental home on Thursday night, a day after having made it back to South Africa.
Despite skateboarding being a demanding sport, Awuah who took on skateboarding from the tiny age of five, has largely been training on her own and has had no other build-up international tournaments prior to the Rome faceoff.
Positively though; history beckons not only for her in terms of age but also in being part of a group of 80 skateboarders from across the world that will be the sport's first-ever athletes at the Olympics. This after the code was ultimately given the nod amid years of lobbying.
"It's a very big deal (in skateboarding making its Olympic Games debut) and the fact that I will be able to represent my country. I have started off at the age of five but I have never imagined representing my country at the first-ever skateboarding Olympic Games. It is a huge accomplishment and I am very blessed," asserted an effervescent Awuah.
The likeable teenager has been a household name for years in the Northern Cape's skateboarding circles and has clinched a number of honours from the days of the provincial government sponsored Maloof Cup to the now Kimberley Diamond Cup.
"I feel like if something is meant for you, you will always shine and I feel like I have always been in the spotlight and it was for a reason," she said confidently.
Being in Europe meant a lot for Awuah. "It was crazy. It was my first time being in a plane and on an international flight. It was a very awesome experience, meeting all my idols, being able to skate in one competition as them and I have always dreamed about this and my parents can tell you that as well and to make it a dream come true, I am happy."
When asked if her classmates gave her a warm reception and if they were aware of her achievement, Awuah took up a diplomatic stance: "Yes my schoolmates are aware and my teachers as well. Everything was super chilled because I am part of their school and they do not acknowledge how big of an achievement this is but everyone is very proud of me."
Awuah's number one fan and father Baffour Awuah is above cloud nine over his daughter's achievement.  "For one to be great you have got to be exposed. She has achieved this through passion."
The president of Roller Sport South Africa Wendy Gila who accompanied Awuah and fellow Kimberlite Natalie Bramley to the Rome Olympic qualifier showpiece said Awuah has a bright future ahead of her.
"She is a delightful girl with so much personality. Boipelo is dedicated and determined. With even harder training she will definitely be a force to be reckoned with at next Olympic Games in Paris 2024. The World Skateboarding Championships was her first and now followed by the Tokyo Olympics."
Melissa Williams (female park), Dallas Oberltzer (men's park) and Brandon Valjalo (men's street) will join Awuah in vying for honours at this all-important global sporting assemblage.
By Thabo Mothibi – thabo@ncnn.live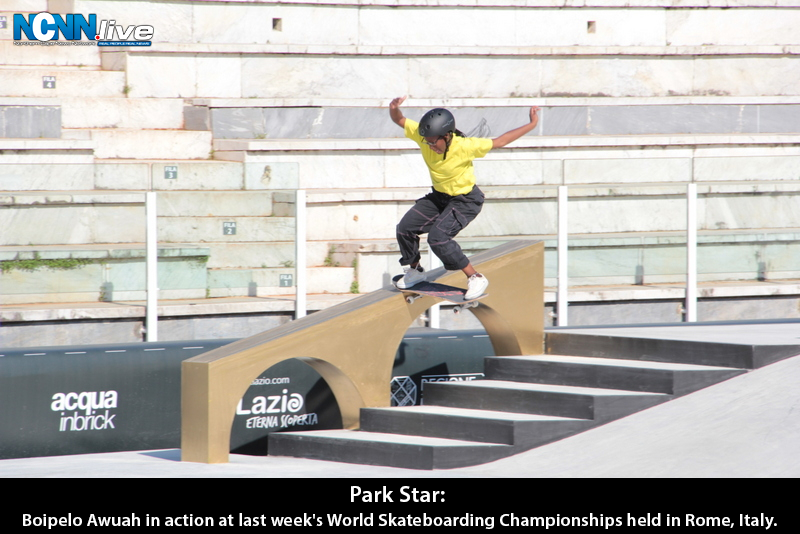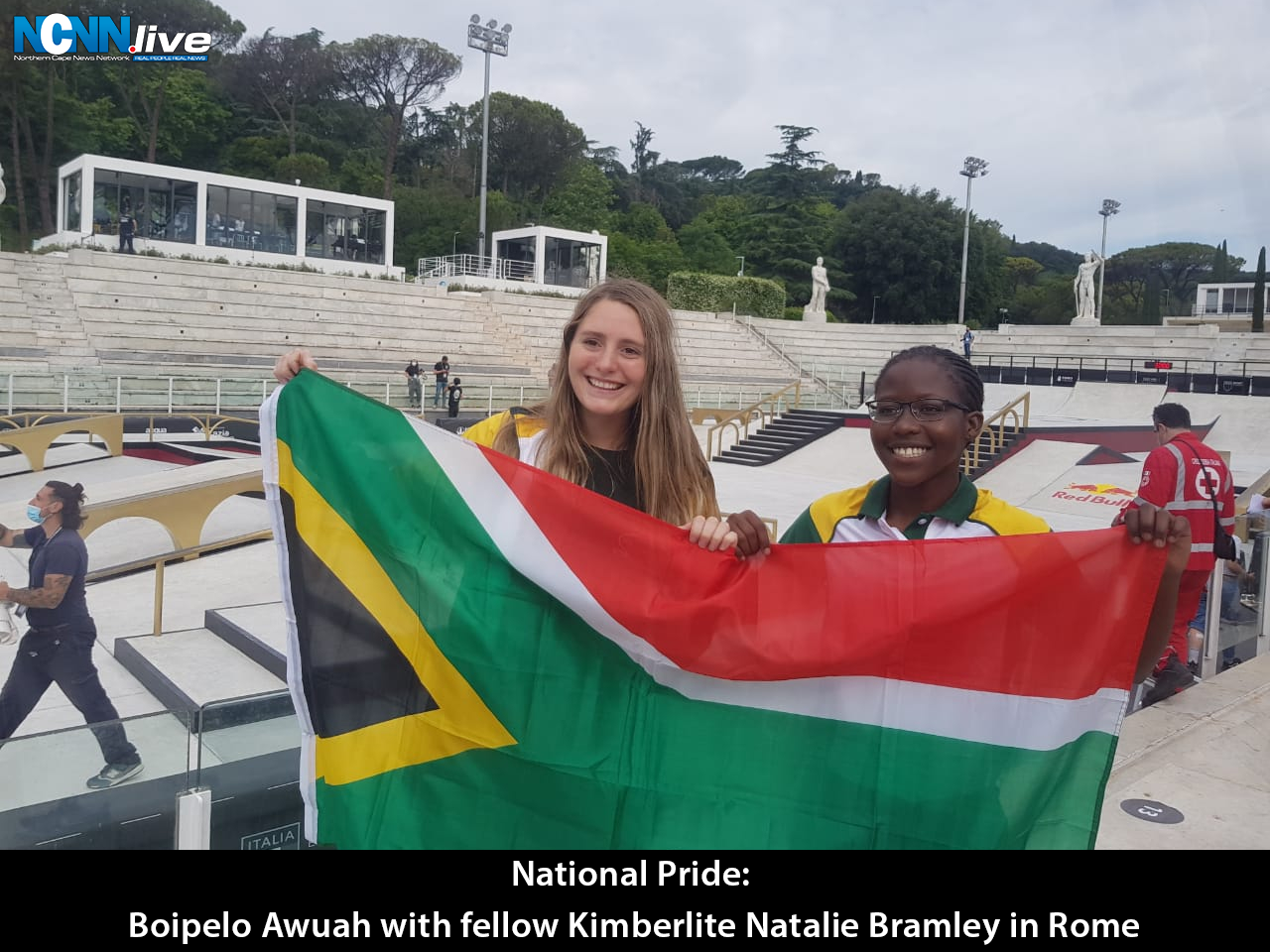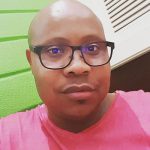 Thabo Mothibi is a former broadcast journalist (TV and Radio) – with specialist reporting experience; SABC Political/Parliamentary and TRC Teams over a period of five years (1995 to 2000).
One key foreign assignment - is the 11-nation African Connection Rally – overland journey from Africa's northern-most pole in the coastal Tunisian city of Bizerte to the southern-most pole in South Africa's Cape Agulhas. From the journalistic years, Thabo then delved into Government media liaison and serving two former Ministers and three MECs. He became the Northern Cape Provincial Government's first department based Communications Director at Department of Agriculture, Land Reform and Rural Development - 2008-2010 – where he also served as Head of Ministry from 2003 – 2008.
As a former anti-apartheid activist, his political background and professional training aided him in spearheading the Northern Cape ANC's 2004 National Elections media and publicity campaign and that of the 2006 Local Government Elections.
Whilst based in Waterkloof in Pretoria -2010 to end 2011, he consulted for Manstrat Agricultural Intelligence, then returned to the Northern Cape in 2012 to date, to consult independently and pursue other entrepreneurial interests in media and communications through KwaVuko Communications and Marketing.
Thabo Mothibi obtained his NQF7 through Wits University's Graduate School of Public and Development Management (P&DM) in Johannesburg, a Unilever Mandela Rhodes Academy for Marketing and Communications Academy (UMRA). The goal of the NQF7 programme was to educate and train public and private sector professional communicators and marketers in government communications..
Shortlink for this post: https://ncnn.live/?p=2439