Kimberley- The ANC's National Executive Committee deployee to the Northern Cape Derek Hanekom has urged workers to unite across their federation divide. Speaking to NCNN.live at a Congress of SA Trade Unions (Cosatu) rally in Kimberley and responding to SA Federation of Trade Unions' (Saftu) Zwelinzima Vavi having told television channel eNCA that Cosatu "is dying," Hanekom said advancing the interests of the working class can be better achieved when united.
"At the moment we have a split trade union movement, in them competing with each other. They do not achieve what they are meant to do or what their fundamental objective should be and that is in the most effective way to advance the interests of working class. At the moment they are trying to compete with each other as to who best represents the interests of the working class.
"So the call should be a continued call. We do not want to comment on the reasons behind the split within Cosatu and the split from Cosatu but at the same time we should continuously be pleading for the unity of the working class if we ourselves want to advance what is best for the working class."
Central Committee Member of the South African Communist Party (SACP) Buti Manamela warned that the national minimum wage which is estimated at three thousand five hundred rand a month and twenty-rand an hour, should not be used to divide workers. He also weighed in on the public sector wage negotiations impasse, saying civil servants "should not be made to pay for the sins of parasitic looters."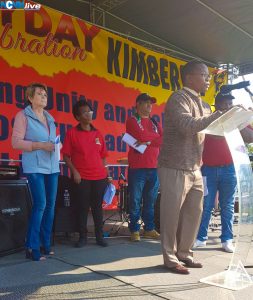 Meanwhile, Cosatu in the Northern Cape handed over a memorandum to the Northern Cape Chamber of Commerce and Industry (Nocci) and the Department of Mineral Resources (DMR). In the memorandum Cosatu demands the implementation of the minimum wage by Nocci and for it to disaffiliate from Shoprite Checkers whom it accuses of exploiting workers. It also demanded that Nocci members combat retrenchments aimed to maximize profits.
Whilst DMR was challenged with enforcing its regulatory muscle for mining houses to adhere to health and safety measures and comply with the Compensation for Occupational Injuries and Diseases Act.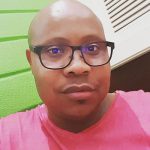 Thabo Mothibi is a former broadcast journalist (TV and Radio) – with specialist reporting experience; SABC Political/Parliamentary and TRC Teams over a period of five years (1995 to 2000).
One key foreign assignment - is the 11-nation African Connection Rally – overland journey from Africa's northern-most pole in the coastal Tunisian city of Bizerte to the southern-most pole in South Africa's Cape Agulhas. From the journalistic years, Thabo then delved into Government media liaison and serving two former Ministers and three MECs. He became the Northern Cape Provincial Government's first department based Communications Director at Department of Agriculture, Land Reform and Rural Development - 2008-2010 – where he also served as Head of Ministry from 2003 – 2008.
As a former anti-apartheid activist, his political background and professional training aided him in spearheading the Northern Cape ANC's 2004 National Elections media and publicity campaign and that of the 2006 Local Government Elections.
Whilst based in Waterkloof in Pretoria -2010 to end 2011, he consulted for Manstrat Agricultural Intelligence, then returned to the Northern Cape in 2012 to date, to consult independently and pursue other entrepreneurial interests in media and communications through KwaVuko Communications and Marketing.
Thabo Mothibi obtained his NQF7 through Wits University's Graduate School of Public and Development Management (P&DM) in Johannesburg, a Unilever Mandela Rhodes Academy for Marketing and Communications Academy (UMRA). The goal of the NQF7 programme was to educate and train public and private sector professional communicators and marketers in government communications..
Shortlink for this post: https://ncnn.live/?p=513